Tucked away in a gray state government building in downtown Baton Rouge, a vibrant world of virtual reality has come to life.
Developers and designers with FastStart, Louisiana Economic Development's workforce training program, have created a series of virtual reality training programs for ExxonMobil Baton Rouge. The petrochemical giant asked FastStart to help build the digital modules to train its workforce on the technical processes at its soon-to-be expanded polyolefins plant on Scenic Highway.
The programs lean heavily on the "reality" part of "virtual reality." The 3-D worlds capture the sprawling nature of the winding pipelines and towers at ExxonMobil's facilities, and they feature enough rust and chipped paint to make the environment seem real.
FastStart's team spent Monday morning in a ninth-floor studio at the Iberville Building testing an ExxonMobil module that is being adapted into an educational tool for the Louisiana Community and Technical College System. The module takes users through a delicate process with dozens of steps that can lead to catastrophic failure following a single slip-up.
"We want them to see that real world," said Jeff Elliott, FastStart's senior manager of creative solutions.
Spurred both by FastStart and a healthy interactive design community in south Louisiana, the use of virtual reality for training programs is on the rise in the state's industrial sector. FastStart officials said they're talking to more companies about virtual reality, though they declined to divulge names because the negotiations are ongoing. Some digital firms in the area are also seeing an uptick in business.
All parties involved are optimism the trend will continue, assuming a wider audience begins to hear about the benefits the technology provides.
"I think in Louisiana it's still pretty nascent," said Brian Lozes, CEO of Kinemagic, a Metairie-based virtual and augmented reality firm. "It's just beginning to get its traction in the state. I think it has a long way to go."
A virtual history
Companies with experience in virtual and augmented reality — which differs from virtual reality by adding digital imagery to real-world environments — were operating here well before ExxonMobil's expansion polyolefins began in 2019.
In Baton Rouge, Pixel Dash Studios opened in 2011, and King Crow Studios followed in 2015. Kinemagic started five years ago under an engineering firm before branching out on its own in 2019. Top Right Corner, another New Orleans agency, began working in Louisiana in 2017. All four firms were ExxonMobil vendors.
Years ago, virtual reality wasn't widespread because the technology was too expensive, said Evan Smith, co-founder and creative director of Pixel Dash Studios.
"They're more cost-effective now, and developers have more access to the hardware," he said.
The COVID-19 pandemic accelerated demand for virtual reality, though Lozes called it "the most brutal gift" because revenue from industrial clients "just disappeared overnight" in the pandemic's early stages. As work-from-home programs endured, more companies saw the benefit of remote learning driven by XR, the industry term for augmented and virtual reality.
"XR training is growing exponentially every year," said Cody Louviere, CEO of King Crow Studios. "If you look at some market data, you're going to notice very quickly that your location-based training will most likely be replaced with enhanced things like AR, XR, VR in general in the next three to five years."
Louviere said the industrial sector has been using virtual reality for safety training procedures that can't be re-enacted live, like gas leaks.
"Some of those companies, they kind of kept it close to the heart and that way they had that competitive advantage," he said. "As more and more information gets out, people see the benefit of XR training in general, and they're starting to reach out."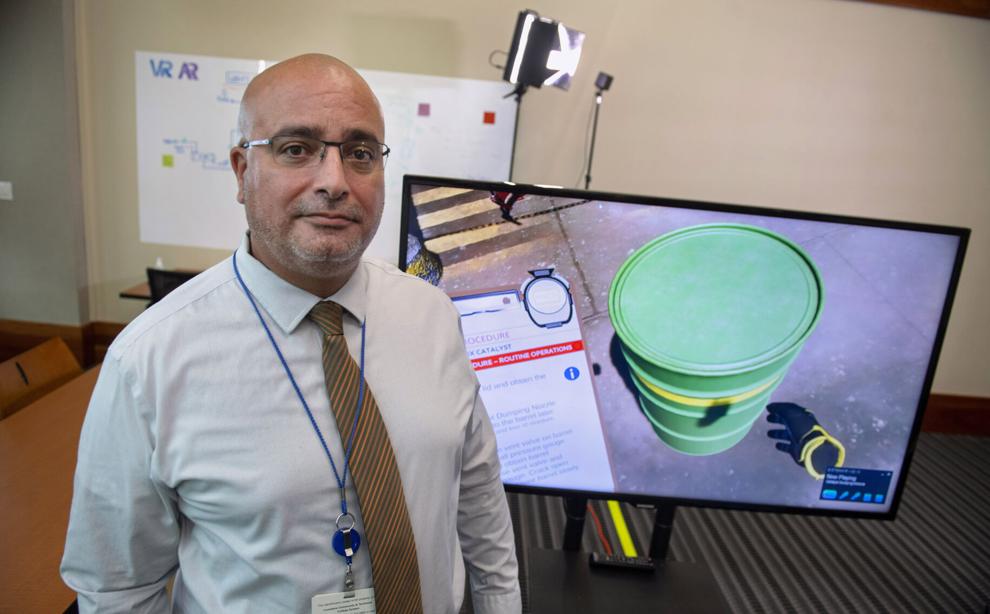 Polyolefins and pixels
Though it certainly isn't the only user of the technology, ExxonMobil's entry into virtual reality helped spur the industry further in Louisiana.
FastStart had experimented with XR technology "for a while," but the ExxonMobil project offered an opportunity to put it into action, said Mario Vaccari, the program's director of project operations.
ExxonMobil used a "significant portion" of its FastStart grant for the polyolefins expansion to build virtual reality training for new and existing employees, said Ken Miller, a retired engineering manager who led the company's virtual reality efforts in Baton Rouge.
The company sought out local firms to help build its training modules. It worked with FastStart to identify eight companies — seven of which were based in Louisiana.
"We were surprised to find, frankly, that the capability was very, very high but a surprisingly small percentage of their work was coming from the local area and within Louisiana," Miller said.
FastStart partnered with the firms to create about 20 digital training modules for ExxonMobil. They took anywhere from a few months to two years to build based on subject complexity and stakeholder availability.
FastStart and ExxonMobil identified which plant processes needed a training program, then determined which programs would be best suited for VR. From there, FastStart mapped out what those worlds would look like, then brought in the outside firms for programming and interactive expertise.
The purpose of the modules is to train inexperienced employees in a safe environment before they head into potentially hazardous assignments — some of which might only happen once a year. It's also meant to engage users in a meaningful, visual way so they're more likely to retain their teachings.
"You've got to get them engaged," said Elliott, of FastStart. "The old school way of doing it in a classroom or just sitting there with a manual, that's really falling away."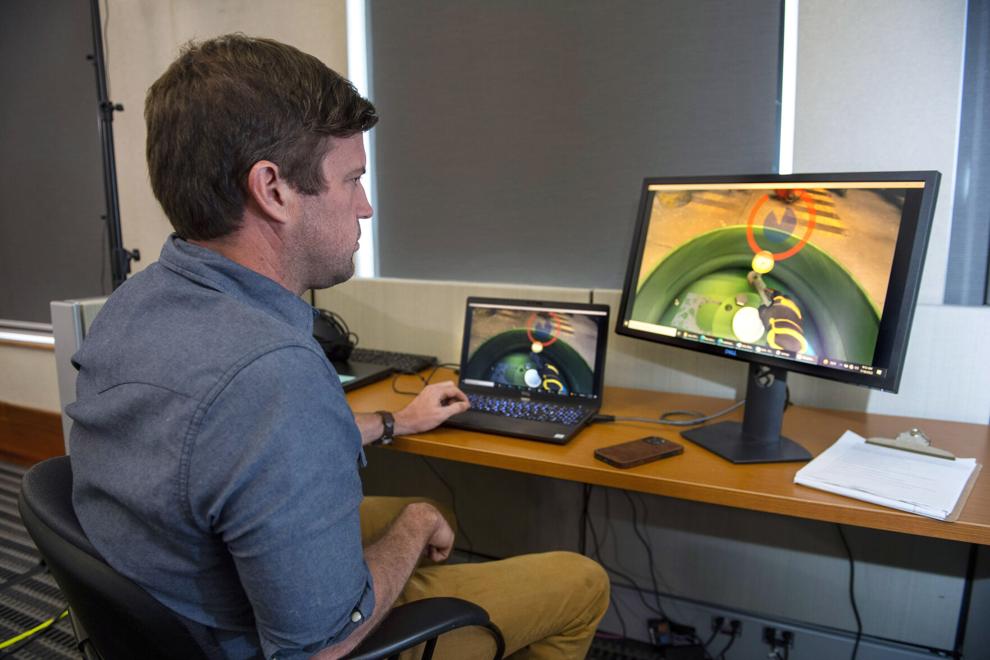 A vision for the future
Miller hopes the modules built in Louisiana can be adapted for the corporation's other sites, as well as for high school and college students interested in industrial careers.
ExxonMobil corporate officials agreed. The company is already using VR in one way or another at its Baytown, Beaumont and Corpus Christi sites in Texas.
"Virtual reality is relatively new in the whole process of enterprise scale," said Kyle Daughtry, digital and extended realities architect at ExxonMobil's headquarters. "We're doing it well. We want to do it better. We want to be able to scale these things out even further."
Other companies are slowly but surely catching on, according to digital firms in Louisiana.
Lozes, of Kinemagic, said his company has also worked with Shell and is in preliminary talks with Marathon, Koch Industries and BASF.
What will help his company, and others, in the future is a faster process. Kinemagic built a platform called Stratus that takes in 3-D models and images from industrial companies to recreate a plant environment virtually. Lozes said his firm no longer builds custom programs from scratch because they take too long.
"I think there's a lot of expansion ahead of us with this industry," he said. "Louisiana, I think to be frank, is trailing some of the other states in doing this. I don't know that's because of the nature of the state or just because a lot of the customers that we work with, their headquarters are in other places."
Meanwhile, Top Right Corner worked with the University of New Orleans to build a virtual chemistry lab, said Dan Clifton, the company's founder and creative director.
Clifton, who has worked in New York and California, said he senses more support for virtual reality in Louisiana than other states. He credited the FastStart program for identifying best practices to create VR programs.
"I think people are really trying to use these new technologies as soon as possible," he said. "For us there's been tremendous interest, especially over the past few years."