Investment Thesis
Buying shares of Immersion (NASDAQ:IMMR) today for $6.1 offers a massive margin of safety because the company trades at 2.1 EV/EBIT multiples compared to the sector median of 20. Fundamental and technical factors support our target price of $13. The downside is well-protected by a growing liquidation value of $3.30 per share. In addition, Immersion Corporation has a Seeking Alpha buy Quant Rating of 4.1/5.
As stated by the management, IMMR is expected to be consistently profitable and benefit from the ever-increasing AR/VR metaverse market. More important, IMMR is well-known for its legal legacy of protecting the company's patented haptic technologies, which are crucial for its financial performance. The industry highly values ​​IMMR's haptic technology. Immersion just won a partnership contract today with ELAN, a "leading human-machine interface provider," with $655 Billion of Revenue in 2021.
Buying IMMR today offers an expected reward of $6.9 and the downside risk of only $2.8; We believe this opportunity presents the case of Mohnish Pabrab's heads I win, tails I don't lose much, kind of investment.
Company Overview
There are many reasons why Immersion is a market leader in haptic technology licensing. This company benefited from the first mover advantage in developing haptic technology dating back to 1993 when the computer was new. Furthermore, IMMR has built a solid Intellectual Properties Portfolio consisting of 1,600 patents, and its Haptic technology is used in 3 billion devices worldwide. According to Interhaptics, Immersion is currently collaborating with Apple (AAPL), Sony (SONY), and InterDigital (IDCC) to develop standardized coding for Haptics. In addition, this company is led by a team of lawyers with expertise in patent law. Therefore, it is no surprise that IMMR has successfully enforced its patent rights against the giants such as gaming console maker Sony Play Station and phone maker Apple. Recently, IMMR filed a lawsuit against Meta Platforms Inc. (META) on its augmented and virtual reality system, which could result in a new Revenue stream for the company.
Patents
The strong portfolio of 1600 patents is IMMR's lifeline. IMMR has successfully innovated and obtained approval for over 100 patents in the past three years. Moreover, research and development have resumed, as seen by its total R&D spending of $10 Million in 2020 and 2021. Unfortunately, the market is treating this company like a dying company, valued at a dirt cheap level. We believe the market is wrong. The CEO stated in the 2022 Q1 press release that the company has become consistently profitable, backed by a debt-free balance sheet and $146.5 Million of Cash and Marketable Securities.
Moreover, the company is excited to monetize its patented technology in the growing AR/VR metaverse market, where haptic is crucial to user experience. Immersion's current CEO, the company's VP of licensing and legal affairs, is backed by a team of top patent lawyers. According to Bloomberg Law, Immersion is known for its "Legal Legacy," and "some of Immersion's lawyers have also gone on to hold key regulatory roles."
Haptic Applications
1) Smart Phone
Immersion's Haptic applications are gaining popularity in mobile devices, automobiles, and gaming. For example, haptic technology is used in phones, such as vibrations with a long hold, buzzy notifications when the phone is silent, and recently the haptic touch used in Apple's iPhone. IMMR's haptic technology is also licensed through award-winning Canadian company TITAN with exposure to users in China. Smart Phone accounts for 61% of total Revenue.
2) Cars
Haptic touch screens in cars can be made to allow users the feel of touching an actual button, dial, or switch at a lower cost than the traditional actual gears. More importantly, this feature makes it safer for drivers to use without taking their eyes off the road. IMMR has recently won partnership contracts with Nissha, Duck-il, to license its haptic technology for automobile users. The car segment represents 18% of total Revenue.
3) Gaming
The haptic controller creates buzz, hiss, rumbles, and vibrations tailored to a game's actions. Undoubtedly, haptic technology is crucial to the Augmented & Virtual Reality gaming experience. The legendary Sony Dual Sense Controller uses IMMR's haptic technology. The gaming division accounts for 18% of total Revenue.
Legal Case Study
1) Sony PlayStation
Immersion is known for its legal legacy in monetizing the company's Intellectual Properties. This case started in 2002 and ended in 2007, with Sony paying Immersion a total of $150 Million on 250 Million units of PlayStation and PlayStation 2 sold. In 2002, these patents had a remaining life of about 18 years. The lead attorney was top patent lawyer Morgan Chu. This computes roughly $0.6 of royalty paid to IMMR per unit basis.
2) Apple iPhone 6
This case started in 2016 and ended in 2018, with Apple agreeing to pay an undisclosed amount to IMMR. We estimate this payment to be around $75 Million, evidenced by the increase in 2018 Revenue. In addition, the total iPhone6 ​​and iPhone6s sold was 222 Million. In 2016, these patents had a remaining life of about 15 years. The lead attorney was Chu, Irell & Manella. This computes to about $0.34 of royalty paid to IMMR per unit basis.
3) Meta Platforms Inc.
This case started in May 2022. IMMR is suing META on haptic technology used in the Meta Quest headset. The total units sold of the Meta Quest headset is estimated to be around 15 Million, and Sales of this headset grew 100% in 2021 and 250% in 2022 Q1. If this case lasted for another two years in court, the total units of headsets sold could easily reach 100 Million. The patents, in this case, are relatively new, with a remaining patent life of 15 years. We believe the one-time royalty payment could range from $34 Million to $60 Million, which will have a material effect on the stock price of IMMR.
Valuations
1) EV/EBIT (Price Target of $13 with EV/EBIT multiples of 5 on 2021 Earnings)
Immersion is undervalued from serval perspectives. The Enterprise Value of IMMR is a mere $40 Million due to its large holding of Cash and Marketable Security. As seen on Seeking Alpha, its EV to EBIT ratio stands at 2.1 compared to the industry median of 20. IMMR has been called a "patent troll," and it is valued as relatively cheap. This table below shows current valuation multiples paid to other "patent troll" companies, including InterDigital, Rambus (RMBS), Acacia (ACTG), Marathon Digital (MARA) and Xperi (XPER); the successful ones can grow their Revenue by protecting their patent rights and earning royalties from their patents. The less successful companies such as IDCC and RMBS are still valued at much higher multiples than IMMR. We believe an EV to EBIT multiple of 5 is a conservative valuation for this company. The target price of IMMR is $13.
| | | |
| --- | --- | --- |
| Ticker | Five years of Revenue Growth | EV to EBIT Ratio |
| IDCC | -20% | 11 |
| RMBS | -16% | 52.3 |
| ACTG | 35% | N/A* |
| MAR | 16% | 10** |
| XPER | 135% | 30 |
| IMMR | 0% | 2.1 |
(Source: Author's Work)
*ACTG has a negative Enterprise Value
** MARA has had negative Earnings in the past 12 months. Forward EV/EBIT is used.
2) Private Equity
As shown on page 44 of 10K, the company sold 6.5 Million Shares via Craig-Hallum Capital and received $59.2 Million. This amounts to $9.1/share, offering a 50% upside. Moreover, the company bought back 904499 shares at $4.725 per share in Feb 2022, making the current entry price of $6 very attractive.
3) Liquidation Value (Expected Bottom Price)
The liquidation value in IMMR is an interesting one because it holds $83.5 Million of short-term investment. The company has Cash of $63 Million and total Liability of $37.5 Million. Therefore, we believe this is a growing liquidation value of $109 Million. Under normal circumstances, the $83.5 Million short-term investment consisting mainly of mutual funds and stocks should grow at an 8% net fee. The per-share liquidation value is $3.30 and grows annually at $0.2 per share.
Financials
Immersion's financials show its ability to generate recurring EBIT in the $20 million range. In addition, the company had a lot of success in cutting its Selling, General & Administrative costs. In 2012, Revenue was $35 Million, while selling and administrative costs were $29.2 Million. In the past ten years, the company has cut its headcounts from 96 to 26 employees and moved its facilities from San Jose to the less expensive area in Montreal. As a result, 2021 Revenue has increased to $35.1 Million, with selling and administrative cost at an all-time low of $16.5 Million. Net Income in 2021 was $12.5 Million, and the profit margin stands at 36% compared to the sector median of 5%.
Furthermore, earnings and cost-cutting efforts continue to be reflected in its 2022 Q1 financials. As a result, Revenue grew slightly, costs were down by another 20% YOY, and Quarterly Net Earnings increased by another 100% to $5.1 Million. In its most recent Earnings Call, the management stated that Immersion is expected to remain profitable in the foreseeable future. The recent partnership with ELAN gaining exposure to the PC/laptop market and the lawsuit against META also indicates that management is constantly exploring a new Revenue stream.
Execution Plan
We believe IMMR is a profitable trade for serval reasons. In the past five years, IMMR has traded near $6 on two occasions. Once in 2018 and another time in 2020. On each occasion, the stock took about a year to trade back to above our target price of $13. Therefore, we believe buying at a five-year support level of $6 now and selling at a target price of $13 within one year is very likely because both technical and fundamental factors support this thesis.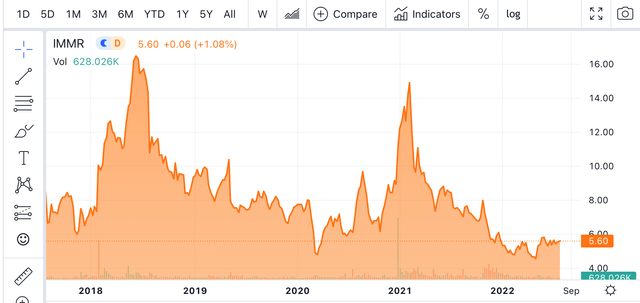 Risk
We believe purchasing IMMR near $6 comes with little risk. A future equity offering at $9 would prevent the share price from reaching our price target of $13, but it would offer a quick gain from the current share price. Although IMMR has a strong track record of winning in court, there is still a chance that IMMR could lose its case against META. However, META is not the only gaming console maker. Nintendo Switch, for instance, continues to pay IMMR royalties on its use of haptic technology.
Catalyst
IMMR has catalysts that are expected to materialize in the next few years. The first one is that history repeats itself technically, and the share price rises to above $13 within one year. Secondly, IMMR continues to benefit financially from the growing AR/VR metaverse and the growing use of haptic technology in mobile devices, cars, gaming, and others such as PC/laptop touch screens. Lastly, winning against META and future lawsuit cases, which would lead to a new Revenue stream.
Conclusion
Immersion's core value comes from its first mover advantage in developing haptic technology and its expertise in patent law. The company has a recurring revenue stream, generating new Sales by utilizing its expertise in patent law. With an Enterprise Value of only $40 Million and Earnings Before Interest & Tax of about $20 Million, the stock of IMMR is undoubtedly in bargain territory. The recent lawsuit against META could create an additional Revenue Stream, and we expect a one-time payment of up to $60 Million for the company. As a result, IMMR is an attractive buy with a target price of $13.